Minute of Silence in the Croatian Parliament in Memory of Victims of Crime in Ahmići
Dear Parliamentary Speaker,
April 16 this year marks 25th anniversary of the crime in Ahmići. In 1993, members of the Croatian Defence Council (HVO) murdered 116 Bosnian civilians, including 11 children, in this village in Bosnia and Herzegovina
The International Criminal Tribunal for Former Yugoslavia convicted six HVO members for the crimes committed in Ahmići: Dario Kordić, Mario Čerkez, Miroslav Bralo, Ante Furundžija, Drago Josipović and Vladimir Šantić; Paško Ljubičić was convicted by the Court of Bosnia and Herzegovina. They were found guilty of grave breaches of the Geneva Conventions, crimes against humanity and violation of the laws and customs of war.
Dear Parliamentary Speaker,
These murders represent one of the most terrifying crimes committed by units under full control of the Republic of Croatia. Furthermore, the massacre of civilians in Ahmići was not an isolated incident; quite the opposite, it was an integral part of the systematic plan aimed at ethnic cleansing of Bosnian population from the parts of Bosnia and Herzegovina.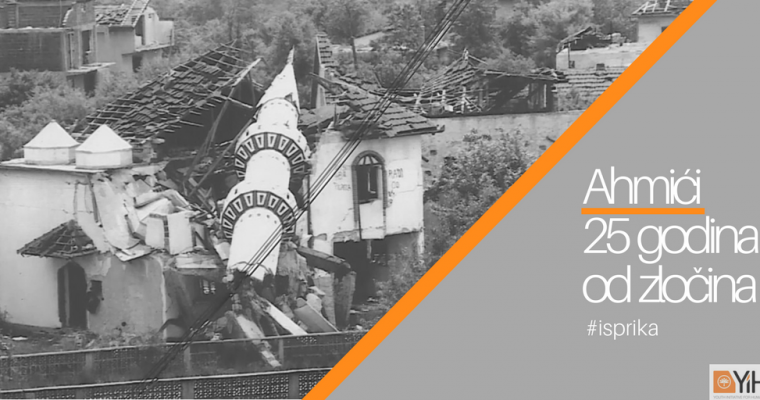 As a society, it is our responsibility to face the past, and admit and condemn the crimes, because of our fellow citizens and the citizens of neighbouring Bosnia and Herzegovina, so that such inhuman acts do not happen ever again and that they are never approved of.
It is important that we pay respect to victims, recognise the suffering of their families and help them in search for justice, truth and comfort. It is our duty to do that because our politicians of that time and their wrong and aggressive policy towards BiH contributed to the commission of these crimes which is in contrast to a broad range of values considered to be the foundations of humanity.
We, young people, demand that you work on dealing with the past and contribute to the building of society founded on the respect for human rights. Since you are a head of the highest representative body, it is your duty, as well as the duty of your fellow members of parliament, to represent and reaffirm the values established by the Constitution of the Republic of Croatia.
For that reason, we urge, together with MPs, to hold a minute of silence in memory of the victims of crime in Ahmići at the session of the Croatian Parliament on June 18.
By this symbolic gesture, you cannot change what happened in Ahmići 25 years ago; it cannot relieve the pain of victims' families, but it can help us learn from mistakes from the past and build cooperation, coexistence and reconciliation for a better future.
Sincerely,
Youth Initiative for Human Rights